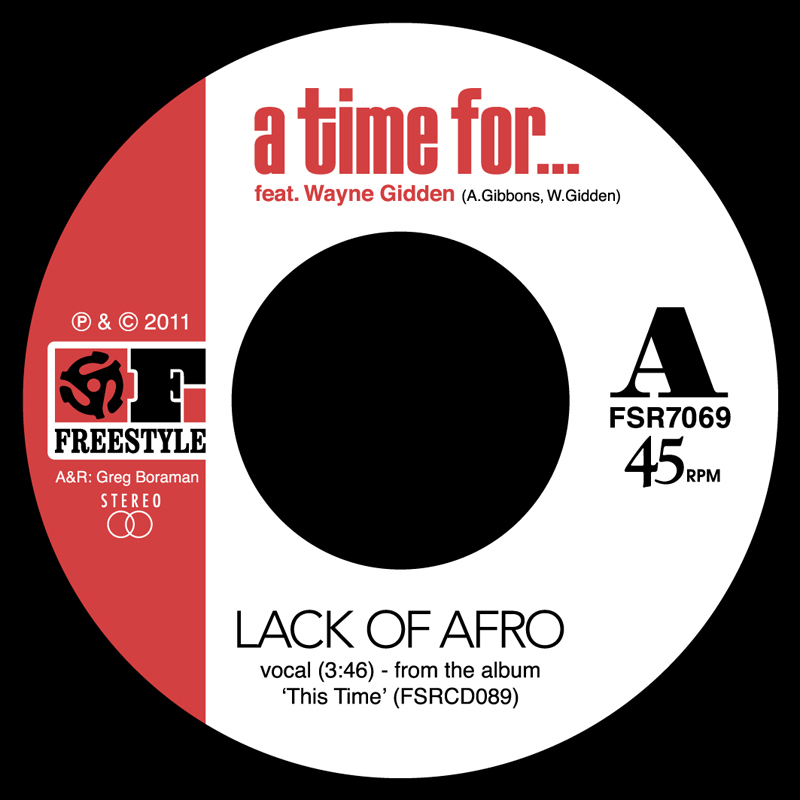 Neue Lack Of Afro Single auf Freestyle. A-Seite deepe schöne Soul-Nummer "A Time for…" mit Wayne Gidden an den Vocals, B-Seite "Numero Seenko" ist wieder ein fetter Dancefloor-Track! Leider kann der Track auf Soundcloud nicht geteilt werden, deswegen hier der Link:
http://soundcloud.com/freestyle-records/sets/a-time-for-lack-of-afro/s-MLjy8
As a multi-instrumentalist, artist, producer, DJ and in demand remixer, Lack Of Afro (Adam Gibbons) has achieved a startling amount in the few years since his first Freestyle releases. Playing live and DJ-ing across the world, producing and remixing everyone from Tom Jones, The Pharcyde, The New Mastersounds through to Kraak & Smaak.

In 2011, as well as collaborating on an album project with Eddie Roberts of The New Mastersounds, and having also produced and played on the Jazz FM ´Album of The Week´´Colours´, by Freestyle label mate ´Frootful´ Adam somehow found time to create what is, without doubt his strongest album yet ´This Time´.

As an introduction to this eclectic and progressive collection, Freestyle Records is proud to present the simply stunning single ´A Time For…´ which features Wayne Giddens´ smoky vocals on this mellow, sublime soulful outing. An accomplished songwriter, Waynes´ own previous singles,´Whatever I Choose I Lose´ & ´I´ve Changed My Ways´ have both enjoyed heavy rotation on BBC Radio 2.

This collaboration between these 2 multi talented musicians has resulted in this memorable and touching composition, and to contrast that, the B side ´Numero Seenko´ is a club friendly, hard hitting funk tinged number that is totally exclusive to this single!